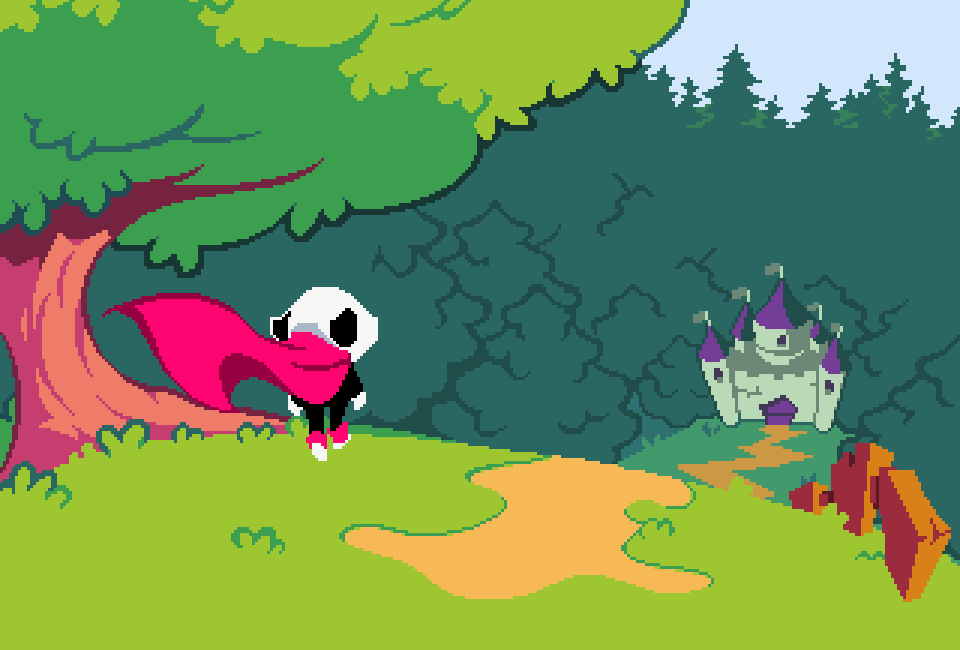 Brave Dog's Road
A downloadable game for Windows
‾‾

‾‾
Brave Dog's Road is a short platformer about a dog who dreams of adventure.

I created the game as a learning tool to explore all the aspects of game dev, having only done pixel art for games prior. I made it in about 7 months and learned everything I now know about programming, game design, sound design and play testing in that time. It's not perfect but I hope you enjoy it! - Shawn
‾‾

‾‾

Story, Art and Coding by:
Shawn
Software used: Game Maker Studio 1.4, GraphicsGale, BFXR.net, pxTone
Additional Help:
Space Bake
Music by:
Abstraction
Special Thanks/ Playtesting:
Jos Venti
Temmie Chang
RatCasket
Nate Kling
Mametchi
Easynam
‾‾

‾‾
Download
Click download now to get access to the following files:
brave_dogs_road.zip
68 MB
Comments
Log in with itch.io to leave a comment.
pixel art is just phenomenal...
Whoa I love the art style! Great job!
Adding to my previous comment, I have a problem with resolution. The resolution chosen is really weird and doesn't scale up to any conventional resolution. Vertical resolution is 192, when 180 would scale well to almost any resolution out there. When the scaling is non-integer, the pixels in the game change their shape, which causes shimmering effect.
180 and 360 scale well to most monitors (except mine which is 1600 by 900 which doesn't like 360). Another way around crooked pixels is smoothing the image (which isn't a good option)
The problem with 180 is that the amount of tiles places vertically is mostly non-integer (but this isn't that huge of a problem and can be deal with in different ways if it bothers you)
So far I really liked what I've seen, the art style is very pleasing and the music is really good.

Bug report: when jumping above the spiky pit, I fell through it closer to the end. I could't find it the second time, though.
I'm very interested by what you've made. You have potential, and it clearly shows here! Judging by the Level 1 screen, I assume this game will be updated at some point? Overall, really short, but really charming as well
Great work, Shawn! I loved it!!
I had a lot of fun with this. Great color and pixel art! It reminds me a bit of Cave Story (which is awesome), which was one of my first introductions to indie game dev. Glad this showed up in my feed.
Incredible Work, loved every second of it - felt really polished, especially for a first entry into game making.

Can I just check, is there anything more to the 2 "claws"?
I played through twice and got a different ending, and I assume it was due to the claws but didn't see any mention of it to confirm my suspicions
Can't wait to see what you put out there next, I feel like theres more to this story and would love to see it.
great stuff!

I'm glad you liked it!! Means a lot!
I guess I could have made it more explicit but, yeah, getting the 2 claws gets the second ending. Getting 1 or 0 gets the first ending.

Thank you!!

Very cute! Thanks for making this bite sized little adventure! I love the pixel-work and the character designs!

My only personal gripes (if you ever make another game like this maybe?):

• The camera moving pixel-by-pixel I guess makes sense for 1x Resolution but it had my eyes hurting in 3x and Full Screen.
• The framerate while clearly intentional felt very jarring imo but that could just be my desire for 60fps in all games.
• Ladders being platforms often caught me off guard during gameplay and ruined my flow.

I loved the game though! Can't wait to see what else you can make!
Thank you very much!! I'm glad you liked it. About the gripes. I did hear all of those from friends as I was making it and did intend to address all of them before releasing it but-
- The camera gave me a lot of trouble from start to finish. I mostly tested the game at 1x resolution and definitely was aware it wasn't as clean beyond that but wasn't sure how to really fix that. It's definitely something I'd like to work on if I make another game.
- I didn't realize until pretty late into the project how to change the game from 30 to 60fps and by that point it'd mean going through every single line of code to accommodate the change in fps. Again, next time I plan to set it as 60fps from the start to save myself the trouble.
-Ladders I was just lazy. No real excuse there lol. I'll keep that in mind though for the future!